---
Thematic Index to Michael Benedikt's THE BODY & SKY
Subject-Index To Topics Of Poems In Benedikt's First Two Collections Of Poetry
published in l968 & 1970 by Wesleyan University Press
An Educational Aid & College-Level Teacher & Student resource, page indexes by topic poems in both books
General Readers & others may enjoy Notes & Commentary, unusual 1960's arts-related photos from
Benedikt's Extensive Literary & Art Archive, etc.
[Last Modified 6/03 & 9/02]
New in '02 Site Searchbox
New In recent editions: 1958 Letter from W.C. Williams to a young poet--re a 1958 limited edition chapbook of Benedikt's verse.
And, a 1954 drawing of the poet by Susi Bloch.

Also New: Notes & Commentary by The Benedikt Team enhanced throughout
---particularly re Benedikt's pre-Body/Sky poetry. With info on l961 small press booklet, Changes.
Also, more re Multi-Media art aspects of Body/Sky

Also here: 'Tears' --a poem from The Body updated for presentation here in memory of 9/11/01 WTC Tragedy in NYC


---
Author Photo & Williams Letter Brief Bio. Book Jackets Introduction Main Contents of This Webpage
---
Thematic Index Compilations & Notes by The Benedikt Team. This is the 5th & final page of this 5-page Website. Other Pages
---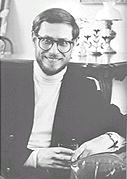 Above: Benedikt in his Manhattan apt. in l968--year in which The Body was completed. Photo by Rollie McKenna.
For photo of Benedikt in 1962, year in which 1st Body poems were written, click here

Above: Letter from Major 20th Century US poet William Carlos Williams (l883-1963) re Benedikt's first chapbook of verse: Serenade.
Privately printed in an edition of 50, Serenade was issued in 1958 .
For more about l958 W.C. Williams letter, & other Benedikt pre-Body verse, click here

Above: Benedikt in 1954. Pencil sketch by Susi Bloch. From poet's college years at NYU. Bloch later went on to work at NYC's
Guggnheim Museum of Modern Art. Artist who drew this introspective portrait was a close friend of poet & then a budding art history scholar.
---
---
Complete bio. appears in Who's Who in America; Who's Who in The World,
Who's Who in American Art; Who's Who in Entertainment, etc.
Selections from Benedikt's other poetry books appear at various other Websites
Article at About.com re Benedikt's Websites: 'The Compleat Michael Benedikt: Poet Laureate of the Net'
Contemporary US poet Michael Benedikt's 5 poetry books in print media are: The Body (l968); Sky (l970); Mole Notes (prose poems, l971; Night Cries (prose poems, l976), issued by Wesleyan University Press; & with University of Pittsburgh Press, The Badminton at Great Barrington--Or Gustave Mahler & The Chattanooga Choo-Choo (1980). Anthologies of poetry under Benedikt's editorship are The Prose Poem: An International Anthology (Dell/Laurel, l976); and The Poetry of Surrealism (Little Brown, l974). His anthologies of plays include 3 volumes co-edited with theater critic George E. Wellwarth: Modern French Theatre: The Avant-Garde, Dada, & Surrealism (E.P. Dutton, l964); Post-War German Theatre (Dutton, l967); & Modern Spanish Theatre (Dutton, l969). Benedikt is also the editor of Theatre Experiment: American Plays (Doubleday, l967). He's a former Associate Editor of Art News (l964-72) and Art International (l965-67). A former Poetry Editor of The Paris Review (1975-1978), his editorial selections are represented in The Paris Review Anthology (Norton, l990). His recent, l990's poetry has been published in Agni, Iowa Review, Jerusalem Review, Lips, Michigan Quarterly Review, The New Republic, New York Quarterly, The Paris Review, Partisan Review; and New Washington Square Review. (Appearance in The Paris Review--the most recent of many since the later 1960's--was in '99 in issue #151, with a long poem praising genius of Albert Einstein. New: Latter poem is now online at a site featuring Benedikt's New Verse). Benedikt's poems are represented in numerous anthologies of US modern/contemporary poetry. Grants and awards have included an NEA Fellowship, a NY State Council On The Arts Grant, and a Guggenheim Grant. Benedikt has taught as Visiting Prof. in English & Creative Writing Depts. at Bennington (1968-69), Sarah Lawrence (1969-73), Hampshire College (l973-75), Vassar (l976-77); and at Boston University (1977-79); & has given many readings from his poetry--early & other--at colleges and universities around the USA. Most recent readings at several Barnes & Noble 'superstores' in the NY Metro area. Benedikt holds degrees from Columbia University (M.A. in Comparative Literature) & NYU (B.A. in English & Journalism). Since the l960's. Benedikt has resided in Upper West Side Manhattan, NYC.

---
---
The Body Sky Sky (Alternate Design)
[Illustration by Anonymous] [Painting by Tom Wesselmann] [Drawing by Charles Frazier]
---
This is a page-in-progress re two books written in the mid-&-later l960's,
and published within a couple of years of each other.
A ground-breaking, watershed period in America's political history, in the Arts,
and in US Cultural History generally, it was also a particularly explorative period in Benedikt's poetry.
THE BODY (1968) and SKY (1970)--both of which contain poems in an unusually wide variety of poetic forms and styles--
initiate the esthetic explorations to be found in Benedikt's later poetry books
as well as other later writings, some of which are represented on The Web.
---

1. Brief Benedikt Biography/Bibliography
Brief Bio.
2. Thematic Index: Summary of Topics in THE BODY and SKY
Main Themes in The Body and Sky by Category

3. Thematic Index: Topical Categories, with Related /Poem-Titles
Main Themes in The Body and Sky: Poem-Titles
(With Notes & Commentary on some thematic categories. Additional Notes & Commentary to come)

4. Original 'Acknowledgment Pages' for BODY/SKY as printed by Wesleyan U. Press
Acknowledgment Pages (With names of 22 1960's Literary Magazines in which poems first appeared)

5. Links to Other Pages of This Website including Selected Poems (so far, mainly from THE BODY)
Other Body/Sky Pages
6. Selected External Links
Sites With Poems from Later Benedikt Poetry Books
---
Main Themes in THE BODY and SKY by Category
Notes so far focus mainly on Benedikt's philosophical concerns & multi-media interests & involvements
from 1962 to l969--the period during which both BODY and SKY were written. And, on some innovative poetic techniques explored in both books.
Topics starred [*] are followed by Notes & Commentary
(Notes to categories appear in Thematic Index, below titles of poems in categories discussed--& begin with comments on the Philosophical poems)

The Four Elements, Childhood and Youth and Growing Up, Gardens and Their Symbolic Meanings,
Time, Space, Spirituality, Philosophy [*],
Love and Eroticism, Business and Finance, Social Concerns, Aging (indexing in progress)
Language and Esthetics, Film & Theatre [*], References to l960's Art, Artists & Rock Music [*],
& Poems that go to Classifiable Extremes:
(1) Poems in Unusual Forms [*], (2) Highly Surrealistic Poems [*],
(3) Poems With Unusual/Multiple Dictional Shifts [*]
---
---
(Tip: Brace yourself for photo below. It's presented here to reflect another aspect of Benedikt's early interests--1960's Visual Arts World)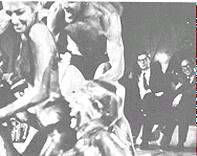 Above: A mid-1960's Happening. 2nd from right is Benedikt (in jacket & wearing tie).
Date & Location of Event: l966, Judson Church, NYC. Event is Meat Joy, a "Kinetic Theater" piece by Carolee Schneemann.
Schneemann, stressed-out, upper left.
For a still earlier (1962) photo of the poet, click here.
(For a less stressed-out photo of Schneemann, starring in Benedikt's 1969 Poetry Event 'Tears,' click here).
---
---
---
Thematic Index:
Main Topics in THE BODY & SKY
& Titles of Poems Related to Those Topics
( includes Notes & Commentary on several Key Topics--starting with Philosophy )
Compilations & Notes by The Benedikt Team
---
The Four Elements--THE BODY
Air
Pyromaniac's Lament in Spring
The Four Elements--SKY
Water
Liquid Links
On Earth
The Sky
Childhood & Youth & Growing Up--THE BODY
Mr. Rainman
The Cities
The Ambitious Lump
Childhood & Youth & Growing Up--SKY
Passing Through Troy/The Student of Wonder
Psalm I
Gardens & their Symbolic Meanings--THE BODY
Time
Pink Buds
Tulips
In Love With You
Gardens & their Symbolic meanings--SKY
Go--And Whisper To Roses
This Morning I Fooled A Butterfly
The Statue Speaks
Tuberoses
Overheard in A Third Avenue Bar
On The Lawn
The Woman In The Tree
Time--THE BODY
Motion
Procession
Time
Tears
Gemini Emblem
After His 31st Birthday Party
The Way Things Settle
The Wings of The Nose
Old School Ties
Time--SKY
The Future
The Seer
The Statue Speaks (for Bob Dylan)
On The Lawn
Events
Environments
Time Makes Monuments Out Of Events (after sculptor Robert Morris)
Vertical Considerations
Vertical Virtues
The Bed Beyond The Bed
Fate In Incognito
Four Psalms
Absence Of Me
Naming The Baby
Regrets
Space--THE BODY
Space--SKY
The Seer
The Sky
Site
Spirituality & Belief--THE BODY
The Spirit
Some Feelings
A Strained Credulity
Thoughts
The Saint
The Guardian Angel
Spirituality & Belief--SKY
Country Living
The Statue Speaks (for Bob Dylan)
Go Away
Vertical Considerations
The Bed Beyond The Bed
The High
Four Psalms
Prayers
Sunday Morning: Hymn
Philosophy--THE BODY(*) Tip: Notes/Commentary begin just below titles of poems in categories discussed
Advancing
Millwheel
After A Reading of (Marshall) McLuhan, Whom I Admired
Philosophy--SKY(*)
On The Lawn
Go Away
Events
Throw Away The Rainbow
The High
On Earth
The Sky
Flicker
Four Psalms
Absence Of Me
Let Me Out
Site
Liquid Links (not a compendium of ever-changing URLs, but actually a 1960's poem-title. As is "Site," just above it)

(*) In 2 of 3 extant interviews, Benedikt comments on his readings in the philosophy of Greek philosopher Plato during the later l960's--and while writing SKY especially. Plato's central idea--that there's an ideal, timeless & placeless, parallel world which passing things and existing phenomena merely approximate and generally fall short of--is reflected in the acerbic critiques of reality and related yearnings for a far better Reality which are present in THE BODY & (especially) SKY. Benedikt's piquant critiques of conventional reality are sometimes funny, sometimes cuttingly ironical--& sometimes both. (Critiques of the more low-tech & heavy-handed aspects of pre-Web non-virtual "Reality" exist in all 5 of Benedikt's published poetry books--a frequent topic of disdain in all 5 books, being lack of imagination). Central theme of SKY is announced in its title poem "The Sky" which--expressing yearning for a more intelligently adventurous, fluid & flexible non-physical or "virtual' Reality than then existed or was then technologically conceivable--asserts: "Everything must become lighter/All phenomena of flora and fauna"). Benedikt's virtual leanings & Web-pre-figuring futuristic yearnings for ubiquitous, weightless placelessness aside, Plato's classic philosophical ideas seem infused in all the poet's thinking during the later l960's. Sidelight: Interviews with Benedikt which in one way or another touch upon his early work & its Platonistic Idealism, appear in (1) the critical festschrift, BENEDIKT: A PROFILE (Grilled Flowers Press, l978--interview conducted by Naomi Shihab Nye); and in (2) The Falcon (a literary magazine issued by Mansfield State College, Pa., l976--interview conducted by W.A. Blais). Falcon interview was reprinted --with revisions--in 1987 in Poesis: A Journal of Criticism (Bryn Mawr College, Pa.). Currently available online is a 1985 interview from (3) Poetry Society of America Newsletter (interview conducted by Dennis Stone), -with answers to questions revised & expanded in 1998. P.S.A. interview appears at a link given among those at end-site: External Links: Brief Prose Poems/Interview. P.S.A. Interview centers on prose poetry. Perspectives re THE BODY & SKY are given in the course of all 3 interviews.
Love poems (Poems about Love & Eroticism)--THE BODY (*)
Divine Love
Some Litanies
Hiding Place
Pink Buds
Tulips
In Love With You
The Grand Guignols of Love
The Great Divan
Developments
Fraudulent Days
A Visual Face
Coiffure
A Beloved Head
Events by Moonlight
Joy
For Love or Money: Two Complaints--Part 1
At Night
The Observation-Tower
The Swimmer's Tears
Before Going On
Inside The Mystery
The Bathroom Mirror
Procession
Love poems (Poems about Love & Eroticism)--SKY (*)
Advice to One More Novice in New York
Rose
The Bed Beyond The Bed
Waking
Prayers
All Women Are One Woman (for their Liberation & Mine)
For Jane (& Roger) But Certainly Not For Henry; or, Barbarella
Modest Undressings
To Persuade A Lady
After a Poetry Reading by Allan Kaplan
Sunday Morning: Hymn
The Woman In The Tree

(*) Commentary on the above BODY-SKY Love Poems category is forthcoming. In the meantime, a relatively new BODY-SKY webpage posted 1/01, Dark Love Poems, is online at: https://members.tripod.com/~MichaelBenedikt/darklove.html
(As of 9/02, ca 35,000 + visitors there).
Business & Finance--THE BODY
For Love or Money: Two Complaints--Part 2
Business & Finance--SKY
Money
Poems of Social Concern--THE BODY
Pyromaniac's Lament in Spring
Poems of Social Concern--SKY
Clement Attlee
Money
The Artillery Portrait
All Women Are One Woman (for their Liberation & Mine)
Money
Overheard in A Third Avenue Bar
Let Me Out
Language & Esthetics--THE BODY
Events by Moonlight
After A Reading of McLuhan, Whom I Admired
Language & Esthetics--SKY
The Sky
Absence Of Me
Site
The Esthetic Fallacy
Definitive Things
Mirror (Poem-Event for Julian Beck)
After a Poetry Reading by Allan Kaplan
The Wonders of The Arm

Film & Theatre--SKY(*)
The Audience for Eternity
Mirror ('Poem-Event for Julian Beck')
For Jane (& Roger) But Certainly Not For Henry; or, Barbarella (dedication: 'for Jane Fonda')
Overheard in A Third Avenue Bar (Jean-Luc Godard; passing reference)
Naming The Baby (Godard; passing reference)

(*) Benedikt's interest in the films of Godard is also reflected in the article "Alphaville And Its Subtext (in Paul Eluard's Poetry)," collected in Jean-Luc Godard, Ed. Toby Mussman (E.P. Dutton, 1968). A translation by Benedikt of Godard's scenario for his 1961 film "A Woman Is A Woman" appeared in France circa l966 in Cahiers du Cinema, the official organ of French "New Wave" Film Directors. Scenario, too, was reprinted in Dutton's 1968 Godard anthology. Benedikt's BODY & SKY poems, with their quick "cross-cutting" from image to image, suggest sympathy with the rapidity & formally-liberated technique & tone of much 60's "New Wave" film-making--French & Other. It's a technique which, itself, owes much to the image-juxtaposing techniques of The Collage, as practiced by many leading 20th century painters & other painters too. Collage technique are also perhaps suggested by the playful leaps in Benedikt's early books from the 'realistic' into realms of the funny & the fantastic--including, sometimes, the decidedly erotic. The evocations of the erotic also suggest sympathy with the liberated tone & sensuous preoccupations of much 60's "New Wave" film-making. The playfulness of the eroticism in Benedikt's early poetry--which has an ingedient of elegance & detachment--similarly suggests breezy New Wave excursions into the genre, rather than the usual, relatively heavy-handed literary precedents. But above all, it's in the juxtapositions of imagery, & in the proliferations of metaphor in Benedikt's early poetry books, that we find a connection to 1960's New Wave film-making; & French New Wave filmmaking in particular.
Benedikt's interest in Happenings, suggested in "Mirror"--a SKY poem dedicated to Director Julian Beck of The Living Theatre--is fully reflected in his anthology THEATER EXPERIMENT (Doubleday, l967). THEATER EXPERIMENT includes, in addition to a general Introduction to the Happening genre, scripts by leading 1960's "happener" Allan Kaprow & Charles Frazier (Gas); Carolee Schneemann (Meat Joy); and Robert Whitman. (It was about one of Robert Whitman's Happenings, Flower that Benedikt wrote his first art-related article, which he published in The Village Voice in l963, when Happenings were still relatively new. The article is reprinted in THEATER EXPERIMENT). T.E. also includes brief Intros to scripted Events). Re origins & nature of The Happening, here's an excerpt from Benedikt's Intro to the subject in THEATER EXPERIMENT: "The Happening's roots are in the visual media. Allan Kaprow, the former painter, sculptor and Rutgers Art History instructor who in l959 appears to have both named and invented the form with his 18 Happenings in Six Parts, has traced the origins of the Happening to '...Futurist manfestoes and noise concerns, Dada's chance experiments and cabaret performances, Surrealism's interest in automatic drawing and poetry, and the extension of those into Action Painting..." (the latter, perhaps best-known today as Abstract Expressionism). In Benedikt's case, an underlying love of thoughtful, meditative quietude--and a wish to evoke that state in audiences--seems to have been at the heart of his happening-style Pocket Theater Events. After all, he's also the author of a highly original, metaphor super-charged, structured sequence of prose poems written just a year after the completion of SKY in 1970--& which is partly in praise of the modest, retiring habits of Moles: Mole Notes (Wesleyan University Press, l971).


Above: Book-Jacket: MOLE NOTES (l971). Jacket concept by Benedikt

The more kinetic aspect of the dynamic, formally highly explorative l960's Happening is suggested by the many dynamic, fast-moving poems which appear with the more meditative work, in both THE BODY & SKY. This, despite the fact that (1) the poems themselves make readily recognizable sense; & (2) are generally easy to follow despite the underlying sense of mystery pervading many; & (3) proceed according to highly logical (or else humorously & obviously deliberately illogical) thought-patterns. The esthetic riskinesss of the Happening--and to some extent the interest in interactivity with audiences to be found in many Happenings (in the case of poet Benedikt, interactivity with poetry audiences and readers)--appears to have been very much on the poet's mind when he wrote the emotionally challenging & technically wide-ranging poems of THE BODY and SKY. In sum: Influences on Benedikt's early poetry were not primarily literary. Nor were they limited to influences from painting and other kinds of installations to be found within the walls of Manhattan art galleries--as was the case with the handful of other poet-art critics writing in NYC at the time. Two other visual-arts-related articles, "Happenings in 1968" and "The Underground Film Breaks Cover" appeared in l968 in The London Magazine. "New at The Seventh Annual Lincoln Center Film Festival" (a review of 'The Deserter & The Nomads' by Czech filmmaker Juro Jakubisko, as Benedikt recalls) appeared in 1969 in an early issue of Andy Warhol's InterView magazine. Sidelight: In l967-68, Benedikt guest-edited issue 22/23 of Chelsea literary magazine; & in it, published 'Eric's Monologue'--a Warhol 'Factory'-supplied transcription from Andy Warhol's 1966 film Chelsea Girls.
Above: 'Tears'--a 1969 pocket-sized Event (Happening) by Benedikt. (Poem appears below, followed by info on other later 1960's Benedikt poetry Events). Benedikt (at right, in "Sergeant Pepper"-type jacket) & Assistant (at left, with tray) are seen attaching tears with (water-soluble) glue to Carolee Schneemann. Schneemann's full-length Happening Meat Joy--pictured near top of site--was one of the leading Events of its kind during the '60's period. In 'Tears' (the Event) a tape was played of Benedikt reading a brief poem from THE BODY called 'Tears,' accompanied by gradual, ceremonious, tear-by-tear tear-attachment. The poem itself is a semi-visual work--of the "Concrete Poem" type, with a bow in the direction of later l960's 'Minimalist' Art. The latter half of 'Tears' consists of repetitions of the word "tears," suggesting the repetitions of imagery--much of it simple & geometric--to be found in the squares, oblongs & rectangles of the work of of Minimalist painters & sculptors. The poem's partly a "Concrete" poem, too, because it somewhat resembles its subject--tears being shed from some unnamed source on high; or perhaps falling raindrops descending on the printed page. The poem served as background to the 1969 performance of Tears, and was repeated several time at low volume via pre-recorded tape-loop. Effect: Hypnotic & trance-like--the opposite of the effect realized in Schneemann's Meat Joy, which was (in Schneemann's own words), intended to be "Kinetic." (Location of 'Tears'--the Event: Max's Kansas City Bar & Grille in Manhattan. Max's was a large, elegant establishment especially hospitable to art & artists which flourished in NYC in the later 60's).
'Tears' (the poem) will eventually appear at the 2nd page of this 5-page Website: Selected Poems from THE BODY. In the meantime, in the Y2K+1 revision here, poem is dedicated to memory of victims of World Trade Center tragedy 9/11/01 in Manhattan, where Benedikt lives


TEARS

The eyes that shower down upon these fields
Must certainly be suspended
From some highly superior elevation
To express such sadness about our entire warring world

Tears
tears tears
tears tears
tears
tears tears
tears

And they run off down a ditch far into the distance. . .
---
'Tears' as 1969 Pocket Theater Event
---
Suggestion: Above Text & Photo could serve as basis for a Y2K-era 'revival' performance of the Pocket Theater version of this poem.
For permission to hold performances at which a fee is charged, please contact Benedikt's agent: Georges Borchardt, Inc.,
136 E. 57th St., NY NY 10022. [212-753-5785. Fax: 212-838-6518]. Or, after performance, please send scanned documentation to benedit2@aol.com
---
Other Poem-Events by Benedikt performed after publication of THE BODY in l968 & during the composition of SKY, published in l970): To begin with, two Events, open to the general public, were staged in NYC at the Manhattan loft studio of major 1960's painter Robert Rauschenberg. (Rauschenberg's quasi-Abstract Expressionist, quasi-Pop "Assemblagist" paintings have much in common with the collage-like, "mixed-media" & kinetic look of most "happenings"). The first event was based on a much-anthologized BODY poem called 'The European Shoe' (poem to be found at the 2nd-- Selected Poems from THE BODY--page of this website). Like 'Tears,' 'Shoe' too was presented accompanied by poetry utilizing tape-loop--in "Shoe,' played by a tape-recorder hidden beneath a pile of shoes situated inside a Rauschenberg clothing-closet (the door, of course, was left open to audiences). The second event entailed projection of 8mm film images from dual 8mm film projectors onto loft walls, as taped poetry played in the background--presaging the numerous, far more elaborate presentations of poetry-&-video presented on Public Television beginning in the 1980's & continuing of course to this day. Both events were part of a group of events/happenings presented simultaneously in a single evening chez Rauschenberg. (Audience-members were free to choose which events the wished to pay attention to).
A slightly later, related Benedikt event also entailed projected images. Event took place at The Bandshell in NYC's Central Park. It was presented as part of an evening of events by John Giorno (poet & multi-media entrepreneur who organized & coordinated the occasion); writer/"happener" (& then also lingeree-designer) Hannah Weiner; poet art-critic John Perreault; & poet Vito Acconci--who in the '80's & '90's went on to help create & shape "Performance Art" (a form with roots firmly planted in the Happening).
Yet another Benedikt projection-event was presented in &--via images projected from 8mm films onto the walls of surrounding buildings--around writer Weiner's NYC apartment & design studio. Photographs documenting some of these events are forthcoming to this webpage in '04.
In addition to the photo from 'Tears' at this Webpage, the URL given at bottom of this paragraph has a souvenir of yet another Benedikt-related event or rather series of events: 'Three Poetry Events ' These 3 events were by various hands, & were performed in a single evening of multi-media events at NYC's 92nd St "Y" Poetry Center. Benedikt organized that evening, & served as Master of Ceremonies for it. The 3 events included Benedikt's collaborative poetry-&-dance event "Box." "Box" was a 3-person collaboration. It was conceived by Benedikt and was based on a poem called "Box" written specifically for the occasion. "Box" (the Event) was realized with assistance of Charles Frazier, who sculpted props for it--3 very large, floppy foam-rubber letters spelling out the word "Box"; & dancer Linda Tarnay, who both choreographed & performed dances suitable for all 3 letters. Others who presented Events on that occasion--the only occasion on which Happenings were ever presented at a major NYC Poetry venue--were John Perreault and painter Marjorie Strider. Cover of Playbill for "Three Poetry Events" was a well-known '60's 'Pop' painting by Jim Dine, Playbill appears at Benedikt's Theatre, Film & TV Poems. One photo--of a series of 35mm still photos documenting "Box" by Charles Frazier--also appears at Benedikt's theatre site. We're told that Benedikt shot a 3-minute 8mm film of some key scenes from the dance portion of "Box.".
References to l960's Art, Artists, & Rock Musicians--THE BODY(*)
References to l960's Art, Artists, & Rock Musicians --SKY(*)
Overheard in A Third Avenue Bar (poet-songwriter Bob Dylan; passing reference)
The Statue Speaks (dedicated to Bob Dylan)
Time Makes Monuments Out Of Events (dedicated to "Minimalist" sculptor Robert Morris)
The High (N.Y. Philharmonic cellist & "Happener" Charlotte Moorman; high-fashion designer
Rudi Gernreich, passing references)
Site (yes, title is Site. Rock group "Bill Haley & The Comets," key, repeated reference)
Naming The Baby (Mick Jagger of "The Rolling Stones" & 60's singer-songwriter
Donovan; passing references)
(*) Directly or indirectly, many poems in THE BODY and SKY (the latter collection especially) reflect the iconography of l960's visual artists --particularly 'Pop' and 'Minimalist' artists active during the period. During the l960's Benedikt worked as an Art Critic, from l963-l972 reviewing art exhibitions as one of several Editorial Associates for the magazine Art News. He also authored feature articles on such painters as the early 20th-century French painter, 'Intimist' Pierre Bonnard; and contemporary US artists Fairfield Porter, Sherman Drexler, and Jack Youngerman. From l965 to 1967--as one of only three 'New York Correspondents' responsible for covering all the major art exhibits in the entire N.Y.City metropolitan area-- Benedikt also reviewed art exhibitions for the magazine Art International. The A.I. reviews are more extended than the Art News reviews. Examples of a few of the A.I. reviews were collected under the title "Sculpture as Architecture: New York Letter for Art International 1966-67," and appear in the anthology Minimalist Art, ed. Gregory Battcock (E.P. Dutton, l968). Note: 'Minimalist Art' is (in brief) an art form in which highly simplified shapes & forms, such as painted or sculpted squares & rectangles, are placed in art settings (& occasionally in other, oudoor settings) so as to interact with their surroundings in a 'cool,' architectural manner. (Leaders of movement: Donald Judd and Robert Morris. A poem in SKY is dedicated to the latter--but that's merely the tip of the iceberg. The peaceful, introspective, thoughful mood of many of the poems in SKY especially, is reminiscent of the visual subtleties to be found in the work of the Minimalists. For most of whom the mere shifting of light on a geometrical form--sometimes but not always varying according to the time of day--can constitute an event of considerable esthetic interest). Click back up for info on Benedikt's Minimalist-mode Poem-Event 'Tears' (there's a return-link, at the words "Minimalist Art, back to here). Benedikt's apparent comfortableness with imagery of popular culture, as opposed for example to imagery of a literary or purely mythological kind; his seemingly casual immersion in such imagery even as he maintains an ironical, acerbically distant relationship to it, often suggests the cool, poised eye of the Pop painter using the commonplace iconography of modern reality without, in turn, being used by it. This sophisticated distance from the Pop Culture iconography he evokes, distinguishes Benedikt from those whose poetry makes such committedly uncritical common cause with such phenomena as to suggest that far from being Pop artists, they themselves have become Pop. (It's this "esthetic distance" which distinguishes Benedikt--who was in the early 1960's one of the relatively rare '2nd generation' NY School poets--from the numerous NY School 3rd generation poets of the 70's, 4th generation NY School poets of the 80's, etc). Benedikt's slant on the realities he portrays, proposes a detached, virtual outlook at every turn; & to that extent, links to the timeless and Visionary rather than the temporary or topical).. An article on Visionary painting entitled "The Visionary French: l9th Century French Symbolist Poets & Painters" appeared in Art News Annual 1966. It was reprinted in the anthology The Grand Eccentrics, edited by John Ashbery and Thomas B. Hess (Collier Books, 1971). Note once again inter-disciplinary, the multi-media nature of Benedikt's activities in the mid & later '60's. (Websites of course are also interdisciplinary--simultaneously involving verbal & visual esthetic disciplines, for example. Benedikt has had a hand so far in the creation & design of circa 20 ( ! ) . Selected URLs--those directly related to other Benedikt book publications--are cited at close of this webpage). Sidelight:"Yoko Notes," which appeared in the British magazine Art & Artists in 1972, is a feature article about a Retrospective Exhibition in Syracuse NY by the Asian-American conceptual artist Yoko Ono. Exhibition (entitled "You Are Not Here)" took place in 1971 at Syracuse's Everson Museum, where former Beatle (& by then also Ono's husband) John Lennon acted as Ono's co-spokesperson during press conferences with art critics such as Benedikt. Like the two London Magazine articles on film & theater referred to earlier (cf directly above photo of Carolee Schneemann in 'Tears'), "Yoko Notes" is illustrated with photos by Benedikt. Benedikt also took much interest in the later 1960's (& thereafter), in the work of another Japanese artist living in NYC: Yayoi Kusama. Since the l960's, Kusama's work has been characterized by the ingenious use of repetitive imagery--obsessively scary yet somehow merry, polka-dot imagery is a Kusama trademark. Her highly original "Infinity Mirror-Room," in which her characteristic iconography is extended almost boundlessly, dates from l965. Influenced perhaps by the work of the Tokyo-based "Gutai" Group of happeners--Kusama also experimented with works in Event-format. Some of those events Benedikt documented in photographs. We plan to present some of those documentary photos at this website in '04. (In '04 & thereafter, other photos of 1960's art events, too).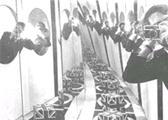 Above: Benedikt photographing an environmental sculpture at an art gallery in London in l968.
(Sculpture is 'mirror-room' type, an art form also explored by Kusama--tho' not by Ono.
Photog. is leaning through circular opening in wall of sculpture to take photo).
Above: Benedikt photo of Yoko Ono and John Lennon at press conference at Everson Museum in Syracuse in l971.
Photo is among several by Benedikt used to illustrate his Art & Artists article on Ono in 1972--Benedikt's last art article to date.
(With some earlier art criticism, article on Ono may be appended to this site in '04. It contains poet's raison d'etre for leaving Art Criticism).
Although the visual arts were decidedly Benedikt's primary "extra-literary" area of interest during the later l960's, during that period he also wrote lyrics for songs. A couple were used in a couple of Hollywood feature films: "Out Of It" (a nice flick starring Jon Voight) and "Jenny" (a dog, starring Marlo Thomas & Alan Alda). Music for both was written by Michael Small, who later went on to become a leading Hollywood film composer. Info on Michael Small & on his distinguished film career which includes 40 film scores--including "Klute" (starring Jane Fonda & Donald Sutherland), "Marathon Man" (starring Dustin Hoffman & Laurence Olivier) and others--is available via search-box at any Hollywood film Site. For example, at International Movie Data Base: imdb.com. Benedikt's bio. in the standard Library Reference Work Who's Who in Entertainment focusses on his work as a theatre anthologist, but also mentions in passing his brief career as film lyricist. Benedikt is formally affiliated as a songwriter with BMI (Broadcast Music, Inc)--which licenses rights for re-broadcast of recorded music of all kinds on radio, TV, etc. Affiliation began circa l966-7. Benedikt also composed music for some of his own song lyrics. An anthology called The Major Young Poets, ed. Al Lee (World Publishing Co., ca. l968), contains copyrighted lyrics and music of 3 of Benedikt's songs. Songs were published by April-Blackwood Music--then an affiliate of CBS. (Like copies of most of Benedikt's out-of-print books, Lee's anthology too can be located & acquired after running searches at book Search Engines). Others in The Major Young Poets are Bill Knott, James Tate, Charles Simic, Mark Strand, C.K. Williams & Marvin Bell. New Info '02: Titles of 3 Songs in The Major Young Poets: 'Touching You,' 'Gretchen (Girl With the Vinyl Hair),' and 'Angel-Killer.' Benedikt tells us that 'Gretchen' may turn up online sometime.
(Poems that go to Classifiable Extremes:)

Poems in Unusual Forms --THE BODY(*)
The European Shoe (a "List-Poem"--also a poem with lines extending into biblical-type
strophes & verging on prose poem, but with modern concerns)
The Eye ( " )
Some Litanies (poem-playlets)
Tears (combines "Concrete Poem," i.e., "Visual Poem" ingredient with verse ingredient)
A Visual Face ( " )
An Enormous Dangling Sack-Like Net (pure Prose Poem--the only prose poem in THE BODY (l968)
or SKY (1970). Sidelight: Starting in 1970/71, Benedikt turned from verse--& wrote prose poems
almost exclusively for nearly a decade. Some are collected in MOLE NOTES (1971)
and NIGHT CRIES (1976).
Poems in Unusual Forms--SKY(*)
Four Psalms (poem with lines extending into biblical-type strophes. Verges on Prose Poem)
Mirror: Poem-Event for Julian Beck (poem which considers the act of writing, itself, as an "event"
--event, in the sense of a l960's-style "Happening." (During the Sixties,
"Event" was an alternative term used for "Happening"). Under Directorship of
Beck & Judith Malina, their troupe The Living Theater created several Happenings of epic
proportions in USA & abroad. Best known event: "Paradise Now"--one performance of which
(at Bennington) Benedikt documented in photographs.
"Mirror" considers its own progress, as if it were, itself, an "Event"; and is one of
many BODY/SKY poems in which Benedikt offers "asides" taking the reader into his
confidence with regard to the dynamics of The Poetic Process). Sidelight: Living Theater Happenings
reached epic proportions by being interactive to an extreme degree--& by attempting to involve
audiences on an intimate, even quasi-sexual level. There was, & still is, nothing quite like them, far as we know.
On The Lawn (free-verse poem which changes dramatically from seemingly improvised
form to "List Poem")
Vertical Considerations ( " )
Site (begins free-form; concludes by abruptly referring back to itself)
Naming The Baby (a "List Poem," but with free-form verse, lyrical beginning & ending)
Definitive Things (poem structured by reference to puns and approximately similar words,
forcing issues of "Concrete Poetry" by being "Concrete" in the extreme--
i.e., by referring back to itself & by actually taking into account the size of the page
on which it's printed. Poem ends by expressing fears about falling off of page).

(*) Besides being in "free" verse, many poems in THE BODY & (especially) SKY possess structures which, though self-contained & logical in their own terms, also seem highly improvisational. They force issues of what philosopher-esthetician Suzanne K. Langer calls "Organic Form" or "Virtual form"--perhaps to the vicinity of their limits. (As many critics have noted, Benedikt is a risk-taking poet, even as modern/contemporary poets go). Listed above are examples of poems in which the feeling for Organic Form in both THE BODY & SKY, produces poems in genres either (1) rare in poetry or (2) new for Benedikt, or even (3) brand-new to poetry. These poems contain the seeds of many other, less obviously esthetically extreme but still surprising, & formally quite adventurous, BODY/SKY poems. In 2 of his 3 interviews, Benedikt points out that his later-l960's interest in forcing the limits of "Organic Form" eventually led to his nearly total commitment in the l970's to Prose Poetry as a literary genre--as Editor, as well as practicing poet. Cf Benedikt's third poetry book, MOLE NOTES (prose poems, Wesleyan U. Press, l971); and his fourth poetry book, NIGHT CRIES (prose poems, Wesleyan, l976); and also THE PROSE POEM: AN INTERNATIONAL ANTHOLOGY (Dell/Laurel, l976). Sidelight re Prose Poem Anthology: Anthology was issued as a mass-market paperback. But by now it's legendarily scarce. It's currently available in some libraries & (occasionally) in rare bookstores offline & via online Book Search Services such as those of amazon.com, powells.com, & bn.com (Barnes & Noble). Still, even to this day, a durable, hardcover edition of THE PROSE POEM has yet to be printed. Over the years, many have lamented that. For example, most recently (as of the date of our later 2000 modifications of this Webpage), Peter Johnson--the editor of The Prose Poem: A International Journal (a litmag named after Benedikt's prose poem antho)-- wrote in his Preface to Issue #10 re what he termed Benedikt's "groundbreaking anthology": "When will some visionary publisher reprint this wondrous collection?" Issue #10 of PPAIJ, on topic of "The Best of The Prose Poem," also includes an example of a 1990's Benedikt prose poem.
In Benedikt's onlne P.S.A. interview (also referred to earlier in these Notes), he refers to the influence of extra-literary ideas re "Organic Form" re encouraging him to extend the long lines of some of his verse poems into strophes, paragraphs, and finally--in MOLE NOTES (l971) and NIGHT CRIES (1976)--into prose poems written as single paragraphs. (Interestingly enoiugh, not long after he begn to write prose poems, Benedikt began to break up his paragraphs into numbered sections like stanzas--which is unusual as prose poems go, & which just may have been globally unique for its time (early 1970's). Such works represent prose poems verging on verse. They explore the as-yet-unnamed interface where both genres converge. Some of Benedikt's published prose poems--particularly the lengthier ones--also pre-figure the "Microfiction" form. His return to verse was signalled by THE BADMINTON AT GREAT BARRINGTON (l980). He continues to write both verse poetry & prose poetry). Sidelight: Bibliography at this page only cites books actually by this Michael Benedikt. A few other Biblios of the poet's work which are searchable on Web cite books by 2 other Michael Benedikt/s. (In other areas than poetry--writing about Architecture and about Virtual Reality, to be precise--poet Michael Benedikt reports that individually, each does good, unusually far-seeing & forward-looking work, too. And write in highly individual ways which, in poet MB's opinion, is "charged with poetry of a very high order").
Highly Surrealistic Poems--THE BODY(*)
Motions: Dedication: 'After Man Ray'--leading Surrealist Photographer (poem's an extension of an idea to be
found in Man Ray's photo 'The Mystery of Isadore Ducasse'--a.k.a. French poet
Lautreamont--a 19th century precursor of Surrealism)
Mr. Rainman
The Eye of the Assassin
The European Shoe
The Aider
Some Old Men
A Beloved Head
Events By Moonlight
Dangerous Ways
The Villain
A Room
The Wings of The Nose
The Debris of The Body
The Audience for Eternity
The Guardian Angel
Highly Surrealistic Poems--SKY(*)
Go--& Whisper to Roses
Clement Attlee
The Seer
Tuberoses
The Artillery Portrait
Events
Psalm IV
Site
(*) Some critics have considered both THE BODY and SKY "Surrealistic"--or at least influenced by 20th-Century French Surrealism. Benedikt's anthology THE POETRY OF SURREALISM (Little, Brown & Co.)--which includes translations made in the 1960's, and which took several years to prepare--was published in 1974, just a few years after both early poetry books were issued. However, it's useful to remember that Surrealism itself has roots which spring--like Benedikt's early poetry--from 19th-Century French Romantic & Symbolist poetry. (In Benedikt's case, it would appear--& as his Interviews confirm--English Romantic & French Symbolist poetry). Listed above are a few of the BODY-SKY poems in which Surrealism definitely predominates.
Forthcoming to this space in a future edition of this site: Notes on French Surrealism and the Abstract-Expressionist, "Action Painters"--or so-called "New York School"painters--of the l950's. (Many leading Abstract-Expressionists lived or around New York City. Influenced by French Surrealism, the "Action Painters"--such as Franz Kline, Willem DeKooning, & Jackson Pollock--in turn influenced for example the highly "kinetic" dynamics of most Happenings (though not Benedikt's more mediative & relatively static events). Also forthcoming here (perhaps): A few more notes on Benedikt's brief association with the lst generation of poets of the so-called "New York School," who were also visual arts-influenced poets. Kenneth Koch, Frank O'Hara, and John Ashbery were among American poets Benedikt's senior whom he most admired in the early & mid-1960's. Their work also helped to shape his pre-BODY, 1960's poetry.
Benedikt's very first "collection"--if so physically slender a volume of verse can be called that--was a playful poetic sequence in 6 short sections called SERENADE (IN 6 PIECES). It was privately printed in l958. Benedikt recalls that SERENADE was written while listening repeatedly to a light-hearted piece for small orchestra by 20th century French composer Jean Francaix, called 'Serenade.' And also reports that this Gallic composition (together with other 20th century French Impressionist & Post-Impressionist Classical music) 'practically singlehandedly' rescued him from writing imitations of the Elizabethan poets, as he was fond of doing in the mid-l950's. (It's perhaps that very mildly anglophobe ingredient in Benedikt's later 1950's poetry which major US poet William Carlos Williams (1883-1963) 'picked up on' in his 1958 letter to young poet Benedikt, in which Williams congratulated on SERENADE. Willliams had been for decades an arch-opponent of the "English style" in American poetry, & the most outspoken proponent of the natural American speech since Walt Whitman. W.C. Williams' letter to Benedikt reads: "Bravo! you've got the hang of the thing now, let's see what you can do with it. You have learned the modern technique, you have escaped from the English era where the iambic pentamter largely dominated, you show an understanding of the American idiom and in addition the use of the variable foot. You do it gracefully without inversion of the phrase... Thank you for sending me this attractive booklet. Congratulations--Willliam Carlos Williams" . Williams' letter congratulating Benedikt contains a little anthology of names of key characteristics W.C. Williams emphasized in his own poetry. And, which he called for more of in American poetry, in his literary criticism & other statements. Approbative phrases such as: "learned Modern technique," "escaping from the English era & iambic pentameter," "understanding of the American idiom" "use of the variable foot" & "without inversion of the phrase" practically keyword the somewhat lonely & courageously groundbreaking work of Williams himself, starting in the 2nd decade of the 20th century. Nor had the battle against undue English influences at the expense of finding authentic American voice/s been won even by the l950's--a decade in which US poetry was in fact dominated by poems in the style of the 17th century English metaphysical poets. And such influences dominated the teaching of US poetry too, via the so-called "University Wits" who taught at Universities (sometimes heading up English Departments); & who edited numerous well-funded and powerfully influential "Academic Quarterlies." And who--the work of Whitman & Williams & a relatively few others notwithstanding--still controlled poetry's purse-strings. There's more to say about 75-year-old Williams' congratulatory letter to 23-year-old Benedikt--& perhaps we'll say some of it here another time... Except to say for now that (1) the 'Discovery' of other poetries than British, via the numerous first-time translations of French, Spanish & German poets which many US poets produced in the 1960's & l970's & beyond, further propelled the trend away from undue English influence. And opened the way further for 'The American Voice' which we hear in so much poetry being written in later years, that today we tend to take its presence for granted. And that (2), strangely enough, British poetry has been enriched by its own departures from tradition--including constraints imposed by the formerly commonplace idea that literary speech inherently needs to be more formal than ordinary speech--some of those departures inspired by developments in US poetry.
Leading inheritor of mantle of Williams in the 'finding an American voice" polemics, is of course distinguished American poet & Williams' fellow New Jerseyite, Allen Ginsberg (1926-1997). Ginsberg's ability to capture the intonations of informal, natural American speech, had much to do with forming the style of the so-called "Beat Generation" poets who began to publish in the mid & later l950's; and who, among other liberating things, continued to whittle away at undue English influence in the 1960's with a colloquial axe. Other leading Beat poets: Lawrence Ferlinghetti, Gregory Corso, and Jack Kerouac. A Few Reference-points: Ginsberg's long, groundbreaking poem Howl (with Intro. by W.C. Williams), was published by Ferlinghetti's City Light Bookstore in San Francisco in l955. Published by New Directions: Ferlinghetti's Pictures of The Gone World (1955) & A Coney Island of the Mind (1958). Benedikt reports that early on, he was particularly fascinated by the latter collection. More here re Benedikt & the 'lst generation' of NY School Poets: As a relative beginner Benedikt often read & re-read Ashbery's Some Trees (Yale Younger Poets, l957); and enjoyed work which would eventually appear in Kenneth Koch's Thank You & Other Poems (Grove Press, l962) & Frank O'Hara's Lunch Poems (City Lights, l964). Admiration for virtually anything published by Bly, Simpson, & Wright, came in the mid-1960's. "Always in the mix somewhere" were the French Symbolists--chiefly Baudelaire, Verlaine, Rimbaud and Mallarme. And the French Surrealists--starting with Guillaume Apollinaire, who coined the term "Surrealism" several years before the start of the movement. As were a few lesser-known French poets--such as the "Fantasiste" poet Tristan Dereme, who was the lst French poet Benedikt recalls translating (ca. l958), publishing them in a California litmag called Coastlines.
More significant than SERENADE, in terms of what was to come in THE BODY (l968) and SKY (1970): Benedikt's first poems reflecting sympathy with Surrealism --& avant-garde NY School perspectives as well--appeared in a small-press chapbook of 21 poems entitled CHANGES (New Fresco, Inc., l961).
Above: Changes (1961). Cover photo: later 1950's Benedikt photo of NYC's Coney Island in winter. Small Press Edition of 500.
Like the poems in SERENADE, the CHANGES poems are short--most have only a dozen lines or so. The CHANGES poems are by turns spiritedly playful & Surrealistically strange--the high-spirits perhaps reflecting Benedikt's delight about (a) the personal breakthrough he'd made in exploring imagistic juxtapositions, often to an adventurously Surrealistic extent; & (b) speaking in intonations closer to both natural speech & (he reports) also closer to the playfully 'ironical' & 'understated' inflections of his own voice. (Benedikt says in his interviews that chief among his literary admirations in l961, were leading NY School poets Kenneth Koch, Frank O'Hara & John Ashbery--poets a decade or so his senior & whose unpretentious humor and linguistic sophistication he liked a lot). Sidelights: (1) In l962, Benedikt was briefly Managing Editor for the very first NY School literary magazine. This was Locus Solus, edited by leading first generation NY School poets Koch, Ashbery, & James Schuyler ); & also brilliant novelist Harry Mathews. (2) Benedikt's enthusiasms among writers his Senior were, however, eclectic. For example, this website's BODY/SKY Dark Love Poems page includes a poem called "Divine Love" which is dedicated to Robert Bly. ("Divine Love" was first published in the lively, upstart literary magazeine The Sixties, which Bly edited). Another Dark Love Poem, "The Grand Guignols of Love," has a dedication thanking Louis Simpson for his advice on the verse. ('Grand Guignols' also thanks a friend from Benedikt's NYU college years, for suggestions made). (3) In the later l960's Benedikt began a series of teaching stints as Visiting Professor at several relatively small Northeast coast colleges of considerable distinction. Benedikt's courses in modern poetry at Bennington, Sarah Lawrence, Vassar, & Hampshire College--& later on at Boston University--were innovative in that they consisted of classes in exactly contemporary poets & poetics. He reports that he "absolutely insisted" on teaching contemporary, post-Modernist poets--even though at the time nearly all were still academic questionmarks--& questionmarks for most literary critics, too. (4) Benedikt was to varying degrees friendly with several of the poets he taught--including most of those referred to above--as well as James Wright, James Dickey, Erica Jong; & others. He corresponded briefly with Anne Sexton, who expressed admiration for the liveliness of Benedikt's work. The surviving course syllabuses & classroom reading assignments in Benedikt's Archive embrace an honor-roll of highly original post-Modernist poets (mostly about a decade Benedikt's Senior) who in later times came to be regarded as Classics.

Poems with Multiple or Radical Dictional Shifts--THE BODY(*)
For Love Or Money
Poems with Multiple or Radical Dictional Shifts--SKY(*)
Go--And Whisper To Roses
Coming And Going: Part I ('Passing Through Troy')
Environments (poem specifically mentions preference for informal diction)
The High
The Sky
Flicker
Fate In Incognito
Psalm II
Liquid Links
Let Me Out (poem specifically mentions admiration for Wordsworth)
Naming The Baby
Definitive Things
For Jane (& Roger) But Certainly Not for Henry; or Barbarella (dedicated to Jane Fonda)
To Persuade A Lady

(*) Williams' endorsement of Benedikt's earliest work nothwithstanding, many poems in both THE BODY and SKY reflect a much stronger influence--that of the 19th century English Romantic & pre-Symbolist poets of visionary disposition. Their Platonistic ideas infuse both BODY and (especially) the soaringly visionary poems of SKY. Particularly pervasive would seem to be Wordsworth's ideas about (1) "natural" form (in the 20th Century, called 'Organic Form'); and Wordsworth's ideas about (2) using natural diction and speech-patterns in poetry. In his later 1960's poetry books Benedikt forces those ideas--perhaps to their limits--too. Often, rapidly switching back and forth between different types of natural speech and diction used in "everyday life"; and playing those off against ossified speech-patterns which often characterize more formal types of utterance. (Audiotapes of Benedikt's poetry readings are sometimes startling in that respect. The tape library of Academy of American Poets in NYC--for which Benedikt read from his early work several times in the 60's & early 70's-- contains at least one extant example that we're aware of. Benedikt's Archive contains many others. Benedikt also introduced many poets to AAP audiences during those years--among them Robert Bly, Louis Simpson, Galway Kinnell, Nobel Prize winner Czeslaw Milosz, & numerous others). In Benedikt's work, diction-switching occurs both from poem-to-poem and within individual poems as well (Benedikt is obviously interested in treating his readers to a wide variety of experiences in several esthetic areas). Cited above are a few of the poems in which sudden dictional shifts--such as exist in everyday, natural American speech--may easily be found. However, in view of Benedikt's involvement with the art of translation, it seems safe to say that his quest for "the idiomatic" probably stems from a desire to reflect the various ways in which people speak in everyday life, whatever the land in which they're located. External Links: Two of Benedikt's websites have Y2K-era updates of translations drafted in the later 1960's & published in the mid-l970's: Robert Desnos: A Unique French Surrealist Poet & Aloysius Bertrand: First French Prose Poet.
Benedikt's last visual arts-related article to date is called "Poetry & Videotape: A Suggestion." It was published in New Artists Video, ed. Gregory Battcock (E.P. Dutton, 1978). "Poetry & Videotape" explores the connection between natural, spontaneous speech in modern poetry (and the extraordinary capacity of that language to reflect the complex, highly diverse reality in which humans live); and the feeling of heightened "Realism" sought by later l970's independent U.S. filmmakers using the first types of non-cumbersome, light, flexible, & portable video cameras ever to reach the market. However, as Benedikt's 1968 article on Godard's Alphaville suggests, mobile camerawork & flexibility of cinematic "syntax" began to dominate forward-looking film-making a decade earlier, with the Directors of French "New Wave" Cinema--Truffault, Godard et al. Such directors brought heightened naturalness into films by using hand-held cameras--as opposed to cameras mounted on bulky tripods, booms, cranes or 'catbird seats'--back in the landmark breakthrough years of the l960's.
---
Top of Thematic Index Top of Notes & Commentary
---
Acknowledgment Pages l962-1970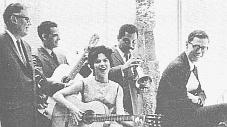 At Right: Benedikt in l962, year in which the 1st poems eventually collected in The Body were written.
Photo is of 1962 Participants in New School for Social Research Summer Arts Festival Program.
Program was coordinated by Carole F. Schwartz, television & children's theatre producer.
Benedikt was chosen for the series by New York School poet Kenneth Koch--then a teacher at The New School.
Others here: Richard Griffith, Film Library Curator, Museum of Modern Art; Oscar Brand, folksinger;
Anita Sheer, flamenco musician; Art Farmer, jazz instrumentalist.
---
(Transcribed below are the original Acknowledgment Pages for THE BODY and SKY,
with names of literary magazines in which poems were first published from l962 to 1970)
---
THE BODY (Wesleyan University Press, l968)
Copyright © l962, l964, l965, l966, l967, l968 by Michael Benedikt
Many of these poems have previously appeared elsewhere. For permission to reprint them here, and for the assignments of copyrights, grateful acknowledgment is made to the editors of the following:
Angel Hair, Ambit, Art & Literature, Choice,
Lugano Review, Minnesota Review, Paris Review, Quarterly Review of Literature,
The Sixties, and Translatlantic Review.
"Before Going On," "An Enormous Dangling Sack-Like Net," "The Eye," "Fraudulent Days," "Inside The Mystery," "Motions," "Pink Beds," "Procession," "The Saint," "Some Litanies," "Some Old Men," "A Strained Credulity," "Tears," "Time," "Thoughts," "Tulips," "The Villain,"
"A Visual Face," and "The Wings of the Nose" were first printed in Poetry.
Note : A group of poems from The Body published in l968 in Poetry: A Magazine of Verse, was awarded prize for Best Group of Poems
published in Poetry during that year (Bess Hokin Prize).
(Hardbound & Paperback)
Library of Congress Catalog #: 68-27539
---
SKY (Wesleyan University Press, l970)
Copyright © l967, l968, l969, l970 by Michael Benedikt
Many of these poems have previously appeared in periodicals. For permissions to reprint and for copyright assignments, grateful acknowledgment is made to the editors and publishers of Ambit, Bennington Review, Chelsea, Kayak, Kenyon Review,
London Magazine, Modern Poetry Studies, New American Review, Paris Review,
The Seventies, Stand, Sumac and The World.
"Money," "On Earth," "Psalm I," "Psalm II," "Psalm III," "Psalm IV," "The Sky," "The Statue Speaks," "Water," and "The Wonders of the Arm" first appeared in Poetry.
Hardbound: ISBN: 0-8195-2052-7
Paperback: ISBN: 0-8195-1052-1
Library of Congress Catalog #: 75-120257
---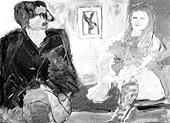 Above: Benedikt, in a later 1960's painting by Walter K. Gutman. In this rather droll rendering, the person in circus-tutu & boots at whom the poet is pointing a somewhat exaggerated nose is a circus-performer friend of Gutman. Besides being a painter--& also a late-blooming & interestingly quirky underground filmmaker--Gutman was a stock-broker & a leading Wall St. financial expert. For many years, he wrote weekly stock-market letters issued by Shields & Co. Painting appears in THE GUTMAN LETTER (Something Else Press, 1969), a selection of multi-talented Gutman's strangely poetic & even somewhat lyrical stock-market letters. Benedikt edited the book between the publication of THE BODY (l968) and the publication of SKY (l970). (THE GUTMAN LETTER also includes reproductions of several other Gutman paintings; & some film-stills, too. Gutman was co-backer--with Jack Dreyfus of the famed Dreyfus Fund--of the first US underground film, Pull My Daisy. Film features narration by Jack Kerouac & stars among others, Allen Ginsberg). In sum: The mid-to-later l960s' were busy, almost frenetically active & productive years for Benedikt. Besides writing BODY and SKY, reviewing for two world-class art magazines (Art News & Art International), editing 4 anthologies of plays, designing Happening-style theatre events & publishing numerous translations as well, his bios reference teaching activities as Visiting Prof. at two Colleges (Bennington & Sarah Lawrence), evening teaching at the 92nd St "Y" Poetry Center, & poetry readings given at the "Y" & for The Academy of American Poets in NYC, and at numerous colleges & universities across the USA.) New Info: Benedikt also wrote short plays in the "Absurdist" vein during the period. Playbill of one appears at Theatre, Film & TV Poems. More about the mid-1960's plays in a future edition of this Webpage. Benedikt says he plans to place at least one, online sometime).
---
Home Page: Michael Benedikt: Early Books of Poetry--THE BODY and SKY
(with 1968 & 1998 author photos & a more complete bio.)
Selected Poems from THE BODY
(with large selection of poems)
Dark Love Poems
New Page in '01
Especially Eerie Poems from THE BODY and SKY
(for Halloween & also for Year-Round fans of Horror-&-Fright Poetry)
---
Benedikt pages at Academy of American Poets
---
LINKS TO WEBSITES WITH SELECTIONS FROM OTHER BENEDIKT POETRY BOOKS

Brief Prose Poems & Critical Prose Y2K-era updates of shorter poems from Benedikt's 4th poetry book, Night Cries (1976).
Also, Interview with Benedikt first published in Poetry Society of America Newsletter in the l980's,
in 1998 update. With essay on "Future of American Prose Poetry."

Prose Poems & Microfictions Updates of selections from Night Cries; & a review of the book from
The London Times Literary Supplement. With info on Benedikt's landmark antho: The Prose Poem: An International Anthology (1977).
The Badminton at Great Barrington; or, Gustave Mahler & The Chattanooga Choo-Choo.
Selections from author's 5th poetry book, published in l980. Tragi-comical poem-sequence in verse about lovers
crossed not so much by their stars as by their psychologies. Book tells story & unfolds like a film.
*
The Thesaurus & Other New Verse. Selections from a work-in-progress entitled OF:
Most poems from OF: at site published in leading US literary magazines in the '80's & '90's.
(Manuscript in work for more than 2 decades)
---
Top of Thematic Index Top of Notes & Commentary
---
Other Main Pages of this Website
Early Poetry--BODY/SKY Home Page
BODY/SKY--main Selected Poems Page
---
On 5/1/00 counter for this page re-set to zero by host server. Visitors until then:
310
5/1/00 to present: