---
SKY by Michael Benedikt
(Wesleyan University Press, l970)
Poems appear in Y2K-era updates
[ This Testpage for this New Page posted 10/03 ]
Here so far: Passing Through Troy--a poem about influence of environments on individuals living in them. With a Note on poem here
Forthcoming: A few lines introducing Sky. And other Sky poems.
This site will contain selections from all four sections of SKY. Site Searchbox info here
This page has Links To The 5 Other Pages Of This Site. & a brief Benedikt bio
---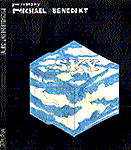 Alternate book jacket design by artist Charles Frazier
---
PASSING THROUGH TROY
Get the children of America out of Troy, New York! Awnings hang slackly above doorways in that city
And sooner than usual every young Sweetie feels the skin wrinkle
And soft eyes grow smudged as glass on the Town Hall clock.
As for the young Gentlemen of Troy
It seems that all they do is sit on curbstones and spit on Greyhound busses, like the one I'm riding on, back to New York City.
O cities of the universe
You are not improving anybody much
Except maybe, in some few of you, in the sections that are ritziest
And what child can afford to live in them after 20; or return to them, unless really rolling in it, after approximately age 40
Fifth Avenue I love you, but when will I live on you again? Seven more years must be waited.
By the time I can cross 67th street once more, and once again enter Central Park Zoo conveniently
No doubt my favorite raccoon will be dead.
In the playgrounds of Troy, New York
They have no monkey bars, but things like Lincoln Logs in cast iron
When they grow a garden in Troy, New York, it isn't cultivated, it's invented. Each leaf is a tiny can or a small nail file
The City Fathers probably think that the arrangement of gas tanks, barbed-wire topped fences,
and offensive oil-drums that surround the town, and constitute the suburb through which we are now passing
Is some kind of an arboretum.
That just about enough about you now, Troy, New York
But children of the universe (and of Troy, New York)
I make this suggestion: that the ugliness of Troy, New York, may be transcended
Move out
But move out to schools & academic communities located in the country along the East Coast for example
and become architects in more beautiful surroundings
And then come back, and for all people
Build more ritzy districts

So that the mind of man may hum with unearthly earthly beauty, which can after all be created
only from the beauty of materials
May you begin with the specific:
The maintenance of cities we can stand to stay in,
All the way from Troy New York to places in Georgia, like Athens.
---
Author's Note In 2003 On 'Passing Through Troy' We're all influenced by the environments in which we live. Younger people--who tend to be more impressionable than other people--perhaps especially. So 'Passing through Troy,' a poem about an unfortunate urban environment with sidelong looks at architecture & city planning, focuses on young people unfairly trapped at a certain point in time in a sorry place due to relative lack of mobility. No doubt Troy NY, since last we passed through it back in 1967/68--riding on a Greyhound bus on the way to our first teaching job at Bennington college in Vermont--has become a charm spot. And doubtless our vision was limited back then by what was visible as one traveled. In any event, above are the impressions of a modern wandering troubadour, a poet & scholar, drafted as he passed through a decidedly unhandsome urban landscape--with sympathy for those exposed to it & wishing like heck that many other cities seen both before then & since then, were also a whole lot prettier. Many poems in Sky have a similar theme, a certain Beauty being what we were looking for then as now. Top
---
Links To Other Pages Of This BODY-SKY Website

1968 & 1998 photos of Benedikt & a more complete Bio. than appears here.
Page 2--Selections from THE BODY
With Selected Poems from much-anthologized first book by a leading contemporary US Poet. Subjects in The Body (l968) range from droll to dark. Body parts cavort & Surrealist 'Black Humor' abounds. Quoth a reviewer writing in 1969 in Poetry: A Magazine of Verse--in which, earlier in the 60's, many poems from Body first appeared: 'Benedikt's poems are a highly serious form of play.' (Many other critics have commented on Author's sense of humor). Titles of the many 1960's literary magazines in which Body and Sky poems were initially published, are given at this site's closing page (p. 6--Thematic Index).
From The Body. Also has an uncollected, 1963 Poem. Poems from Sky, forthcoming in '03.
Page 4--'Spooky Poems for Halloween & All Year Round'
Particularly eerie poems from The Body. This Award-Winning Halloween-&-Horror Page includes, among other poems, large-font versions of "The Helper" & "Mr. Rainman." Includes "To Persuade A Lady," a poem from Sky.
Page 5--Selections from SKY
This page, with Y2K-era updates of Selected Poems from Benedikt's second book. Sky-page features verse with long lines extending into strophes, and verging on prose poetry--a genre dispensing with the line-break altogether. Note: After Sky (l970), Benedikt wrote prose poems exclusively for some years. Those prose poems are collected in Mole Notes (1971); and Night Cries (l976). Titles of the many 1960's literary magazines in which both Body and Sky poems were initially published, are given at this site's closing page (p. 6--Thematic Index).
Page 6--Thematic Index to THE BODY and SKY
Index of Topics of poems in both The Body and Sky. Lists & classifies by subject, all poems in both books. A college-level teacher & student modern poetry resource. With Notes & Commentary on some thematic categories, & giving an overview of these two first books. So far, notes focus especially on the philosophy behind both books--especially Sky. And, offer perspectives on the close relationship of both books to the visual arts (such as Surrealism, Pop Art & Minimalist Art & 1960's 'Happenings"); & on various innovative poetic techniques in both books. Index may be helpful as teaching aid for classes & courses in later 20th Century Poetry & Contemporary Poetry. May also be helpful to Graduate students writing Modern Poetry theses & Undergraduate students writing Modern Poetry term-papers. General Readers may also enjoy Notes & Commentary. New: Info on chapbook Changes (1961), and other emphemera published prior to The Body. Copiously illustrated with photos from Benedikt's 1960's Archive.

Searchbox. Search all 5 pages of this site from near top of Thematic Index. Top of This Page
---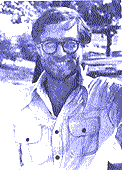 Benedikt, circa 1970
---
Complete bio. appears in Who's Who in America + Who's Who in World + Who's Who in Entertainment, etc.
Selections from Benedikt's other poetry books appear at listings at end-of-page of Other Benedikt Websites:
Contemporary US Poet Michael Benedikt's publications in print media include 5 collections of poetry: The Badminton at Great Barrington; or Gustave Mahler & The Chattanooga Choo-Choo (University of Pittsburgh Press, l980)--a sequence of poems about the joys & sorrows of love; & with Wesleyan University Press: Night Cries (prose poems, l976); Mole Notes (prose poems, l971); Sky (l970); and The Body (l968). His work appears in ca. 70 anthologies of US poetry. His relatively recent poetry has appeared in Agni, Iowa Review, Jerusalem Review, Lips, Michigan Quarterly Review, The New Republic, New York Quarterly, Partisan Review, The Paris Review & Washington Square.
Anthologies of poetry in translation under Benedikt's editorship are The Prose Poem: An International Anthology (Dell/Laurel, l976); and The Poetry of Surrealism (Little, Brown & Co., l974). He's also co-Editor & co-Translator, with theatre critic George E. Wellwarth, of 3 anthos. of 20th-Century European plays: Modern French Theatre: The Avant-Garde, Dada, & Surrealism (E.P. Dutton, l964); Post-War German Theatre (Dutton, l967); and Modern Spanish Theatre (Dutton, l969). He's the editor of Theatre Experiment: American Plays (Doubleday, l967). Benedikt is a former Associate Ed. of Art News and Art International. A former Poetry Editor of The Paris Review, his editorial selections are represented in The Paris Review Anthology (Norton, l990). Benedikt has honorary title of Contributing Editor for American Poetry Review.
Benedikt taught Literature & Creative Writing as Visiting Prof. at Bennington, Sarah Lawrence, Vassar, Hampshire College and Boston University. Grants and Awards for poems published in print media have included a Guggenheim Grant, a NY State Council On The Arts (Creative Artists Public Service) Grant; and both an National Endowment Fellowship & an NEA Award. He's read from his poetry at many colleges and universities around the USA. In l986 he gave a videotaped 'retrospective' reading at invitation of Library of Congress. Most recent readings, at several Barnes & Noble 'Superstores' in the NY Metro area. A graduate of NYU's Washington Square College & Columbia University, poet is a long-time resident of Upper West Side Manhattan. E-mail: benedit4@aol.com
---
Top Top of Links to Other Pages of This Site
---
SITES WITH SELECTIONS FROM HIS OTHER PUBLISHED POETRY BOOKS
After completing THE BODY (l968) and SKY (l970), Benedikt wrote Prose Poems exclusively until l976.
They appear in his 3rd poetry book MOLE NOTES (l971) and his 4th, NIGHT CRIES (l976).
Selections from N.C. are available online at:
Brief Prose Poems
Prose Poems & Microfictions
A couple of MOLE NOTES are online at:
Theater, Film, & TV Poems
And there's another from MOLE at--of all places--a music-enhanced Xmas Site:
'Xmas On Bay State Road' & Other Poems
Selections from Benedikt's 5th & most recent book of poetry at:
The Badminton at Great Barrington
Manuscript-In-Progress at:
The Thesaurus & Other New Verse
---
Links to Other Pages Within This BODY-SKY Website
Next Page of This Site--'Thematic Index: The Body & Sky'
BODY-SKY Home Page Selections from THE BODY
---
---
Testpage posted later 10/03. Sky Background by Glorianon