---
Michael Benedikt : Early Books of Poetry
THE BODY (Wesleyan, l968) and SKY (Wesleyan, l970)
[This Page Last Modified 7/01. Prior 1/01]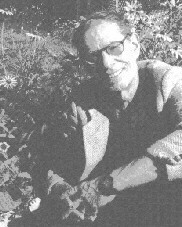 Photo of Benedikt, l998. Click for Bio. Info
---
This is the first page of Website with Selected Poems from THE BODY and SKY.
All poems appear in l998/99 & Y2K updates/revisions. Others to come later in 2001.
Links given below are links to Other Pages Within This BODY-SKY Website.
Page 1--Home Page
This Page--with Benedikt photo, this Site-Map, & Bio.
Page 2--Selections from THE BODY
Selected poems from first book of poetry by a much-published contemporary US Poet.
Narrative & lyric poems--as well as poems in more unusual poetic genres--from much-anthologized first book. Surrealism-influenced poems, including Benedikt's first poems in strophe format--with long lines and verging on prose poetry. Subjects range from droll to dark. Black humor abounds.
New in Y2K: 3 dark love lyrics.
Page 3--'Dark Love Poems'
New Page: Online 1/01 from THE BODY.
Page 4--'Spooky Poems for Halloween'
Especially Eerie Selections from THE BODY. Also for year-round fans of horror poetry.
About. com Featured Site Award '99 & '00
Page 5--Thematic Index to THE BODY and SKY
Subject-Index to topics in Benedikt's first 2 poetry books. Accompanying notes give a "quick take" on both books & their key aspects--with emphasis so far on their relationship to the visual arts & multi-media. Index has thumbnail graphics of BODY and SKY book-jackets. New in Y2K: other BODY and SKY-related graphics. Index is intended mainly as a college-level Modern Poetry Course classroom teaching resource
--& as an aid to scholars including Undergraduate & Graduate students writing term-papers or theses on
20th Century poetry. Educational page may also be helpful to those writing papers on l960's Cultural History. General readers seeking to gain an overview of Benedikt's early poetry may enjoy informal notes
+ photos at page.
---
Complete bio. now in
Who's Who In The World, Who's Who In America, WW East, WW Entertainment,
& Who's Who In American Art, etc.

Michael Benedikt has published five collections of poetry, most recently The Badminton at Great Barrington; or, Gustave Mahler & The Chattanooga Choo-Choo, a book about the joys and sorrows of love (University of Pittsburgh Press, l980). His first four collections, Night Cries (prose poems, l976); Mole Notes (prose poems, l971); Sky (l970); and The Body (l968), were published by Wesleyan University Press.
Anthologies of poetry under his editorship include the landmark modern poetry anthologies The Prose Poem: An International Anthology (Dell/Laurel, l976); and The Poetry of Surrealism (Little Brown, l974). Benedikt is also the editor of four anthologies of plays, including three volumes of plays from the European "Theater of The Absurd" co-edited with theater critic George E. Wellwarth: Modern French Theatre: The Avant-Garde, Dada, & Surrealism (E.P. Dutton, l964); Post-War German Theatre (Dutton, l967); and Modern Spanish Theatre (Dutton, l969). He's the editor of Theatre Experiment: American Plays (Doubleday, l967).
Benedikt is a former Associate Editor of Art News and Art International. Affiliated in the early l960's with poets of "The New York School," some of whom were also poet-art critics, he was briefly Managing Editor for the first New York School literary magazine, Locus Solus. Selections from his art criticism appear in The Grand Eccentrics: 19th-Century French Symbolist Painters, ed. John Ashbery and Thomas B. Hess (Collier Books, 1971); and in the anthology Minimalist Art, ed. Gregory Battcock (E.P. Dutton, l968). A former Poetry Editor of The Paris Review, his editorial selections are represented in The Paris Review Anthology, ed. George A. Plimpton (Norton, l990). He's currently Contributing Ed. for American Poetry Review and The Prose Poem: An International Journal.
His own work appears in ca. 65 anthologies of modern and contemporary US poetry, his first anthological appearance being in The Major Young Poets (Ed. Al Lee, World Publishing Co, l968). His uncollected, l980's & l990's poetry appeared in (among many other literary magazines) Agni, Antioch Review, Iowa Review, Jerusalem Review, Lips, Michigan Quarterly Review, The New Republic, New York Quarterly, Partisan Review; and several times in The Paris Review--most recently, a long poem in honor of Einstein in the summer '99 issue (#151). Grants and awards for his poetry have included an NEA Fellowship, a NY State Council On The Arts Grant, and a Guggenheim Grant. He's also won an NEA single-poem award, and Poetry's Bess Hokin prize for Best Group of poems published in 1968--for a group from The Body.
Benedikt taught in the later l960's and in the '70's as Visiting Prof. in the English & CW (Creative Writing) Departments at Bennington, Sarah Lawrence, Hampshire, and Vassar Colleges; and at Boston University. Over the years, he's also given over 100 readings from his verse / prose poems around the USA--including a videotaped "Mini-Retrospective" performance given in l986, at invitation of The Library of Congress. In recent years, he's read from his poetry at several Barnes & Noble 'superstores' in the NY Metropolitan area.
His poems have been praised in book-jacket quotes by writers as diverse as James Dickey and Erica Jong. Benedikt is a graduate of Columbia University (1961, M.A.Comparative Lit.), and NYU's Washington Square College (l956, B.A. English & Journalism). He lives in Manhattan, NYC. Email at benedit1@aol.com
Photo of Michael Benedikt by Laura Boss
---
Click Back Up to Site Contents
---
Click for Next Page of This Site: 'Selected Poems from THE BODY'
---
Info. at About.com--'The Compleat Michael Benedikt: Poet Laureate of the Net.'
(Links besides those given below, are cited at end of article posted by About.com).
---
OTHER BENEDIKT WEBSITES
SELECTIONS FROM OTHER BENEDIKT BOOKS
Poems from Benedikt's 4th book of poetry, NIGHT CRIES
Brief Prose Poems
Prose Poems & Microfictions
Poems from Benedikt's 5th & most recent book of poetry
The Badminton at Great Barrington
Poems from a Benedikt manuscript-in-progress
The Thesaurus & Other New Verse
---
Click for Next Page of This Site: 'Selected Poems from THE BODY'
---
---
Counter for this page was re-set to zero by host server 4/28/00 or shortly thereafter.
Visitors to this page to 4/28/00
950
Current Counter for This Webpage