---
Michael Benedikt : Early Books of Poetry
THE BODY (Wesleyan, l968) and SKY (Wesleyan, l970)
[Site Last Modified 10/28/99]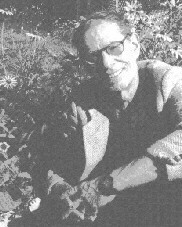 [Photo of Benedikt in Garden, l998]

---
Site Contents
Poems at Sections I & II of this site appear in l998/9 versions. Other poems to be added in later '99 or early '00
I. Selections from THE BODY
Click for Selections from THE BODY
II. Selections for All-Hallows Eve '99 from THE BODY and SKY
Click for Especially Eerie Selections
III. Thematic Index to THE BODY and SKY
Click for Thematic Index
(Subject-Index intended as an aid to scholars, including Undergraduate or Graduate students writing theses;
also to perhaps somewhat inadvertent scholars, such as High-School & other students writing modern poetry
term-papers. Also, for some readers, accompanying notes may introduce author beyond Bibliography
& help give a "quick take" on topics in both books. Index-page includes graphics of Bodyand Sky book-jackets)
---
Brief Benedikt Bibliography

Michael Benedikt has published five collections of poetry, most recently The Badminton at Great Barrington; or, Gustave Mahler & The Chattanooga Choo-Choo, a book about the joys and sorrows of love (University of Pittsburgh Press, l980). His first four collections, Night Cries (prose poems, l976); Mole Notes (prose poems, l971); Sky (l970); and The Body (l968), were published by Wesleyan University Press.
Anthologies of poetry under his editorship include the landmark anthologies The Prose Poem: An International Anthology (Dell/Laurel, l976); and The Poetry of Surrealism (Little Brown, l974). He has also edited four anthologies of plays, including three volumes of plays from "The Theater of The Absurd" co-edited with theater critic George E. Wellwarth: Modern French Theatre: The Avant-Garde, Dada, & Surrealism (E.P. Dutton, l964); Post-War German Theatre (Dutton, l967); & Modern Spanish Theatre (Dutton, l969). He is the editor of Theatre Experiment: American Plays (Doubleday, l967).
Benedikt is a former Associate Editor of Art News and Art International. Affiliated in the early l960's with senior poets of "The New York School," some of whom were poet-art critics, he was briefly Managing Editor for the first New York School literary magazine, Locus Solus. Selections from his art criticism appear in The Grand Eccentrics: 19th-Century French Symbolist Painters, ed. John Ashbery and Thomas Hess (Collier Books, 1971); and also in the anthology Minimalist Art, ed. Gregory Battcock (E.P. Dutton, l968). A former Poetry Editor of The Paris Review, his editorial selections are represented in The Paris Review Anthology, ed. George A. Plimpton (Norton, l990).
His own work appears in 60+ anthologies of US/British poetry. His recent, l990's poetry has been published in New York Quarterly, Agni, Iowa Review, Jerusalem Review, Lips, Michigan Quarterly Review, The New Republic, Partisan Review; and The Paris Review--most recently in the current issue (#151). Grants and awards for his poetry include an NEA Fellowship, a NY State Council On The Arts Grant, and a Guggenheim Grant.
Benedikt has taught in the English & Creative Writing Departments at Bennington, Sarah Lawrence, Hampshire, and Vassar Colleges; and at Boston University. He has given hundreds of readings around the USA, including a videotaped "Mini-Retrospective" given in l986, at invitation of The Library of Congress.
His poems have been praised by writers as diverse as James Dickey and Erica Jong.
He lives in New York City. Email at benedit1@aol.com
Photo of Michael Benedikt by Laura Boss
---
Click for Selections from THE BODY
---
Other Benedikt Books Represented On The Web
External Links re Benedikt's fourth book of poetry, NIGHT CRIES
Prose Poems
Brief Prose Poems
External Link re Benedikt's fifth & most recent book of poetry
The Badminton at Great Barrington
External Link re a Benedikt work-in-progress
The Thesaurus & Other New Verse
---
[Counter for This Page Only]