---
' APHRODITE'S CHATROOM '
---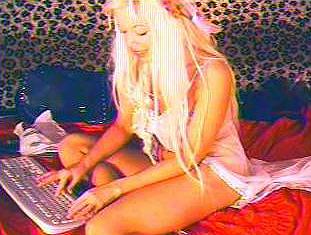 ---
THE GODDESS IS GONE GONE GONE !

It's midnight and when sweet Aphrodite says goodnight she really means it
Explaining "they kick me out of here if I don't leave on time"
She throws goodbye kisses to the crowd with lips close-up to the cam
Types in muaaah's & xoxoxox's to her most devoted fans
And sometimes mixed in with her goodbyes, on nights when I get lucky,
She'll say "niters tekkie baby" just to me
Then drops a top over her bra, pulls on jeans, turns & zips them up for au revoir
& Having said her gracious goodnights,
Suddenly exits the picture-frame at the far right...
Picture onscreen's almost empty now except for an empty bed
Lights glare down on only pillows & a rumpled bedspread
& A computer keyboard lying there so silently
Where sometimes she types in "niters tekkie " just to me
And though devastated, I type in something timid
to the others still signed in just like me
Like "I guess she's hit the road"
Oh Yeah I'm tellin' ya
The goddess is gone, gone, gone
(She has left the building)
The goddess is gone, gone, gone
Yeah I'm tellin' ya
The goddess is gone, gone, gone
She has left the building
(She just couldn't stay)
That goddess is gone, gone, gone.
---
---
Song Lyric closing Act 1 of Aphrodite's Chatroom
© 2003 by Michael Benedikt
---
---
lst Lyric at this Site, 'Doing The Aphrodite'

Second Lyric at Site, 'Doggy-Style,' here
Lyric 3, 'Men Make Ladies Lousy Lovers'
Lyric 4, 'Spinning Dancer'
Closing of Act I & this Lyric, 'The Goddess Is Gone, Gone, Gone'
Opening of Act II & Lyric 6 'Just Resting'
Lyric 7 'Tekkie Can U Help Me'
New 'Every Day People Die From Lack Of Love'
Forthcoming: Links To Other Pages Of Site.
Suggestion: Since other song lyrics will be added to Acts/this site from time to time,
& it's hard for us to keep up with integrating all pages--particularly if we need to modify the order of any of the songs--
we'd suggest that return-visits to see what's new, start at Song Lyric Home Page
(Or perhaps, retrn-visit to catch any as-yet-unintegrated pages).
---
Private URL